Experience room escape in virtual reality
A virtual experience
Immerse yourself in the virtual world without restrictions. No cables. Spatial image, 3D sound, real tactile experience. A real looking but fantastical world.
Teamwork
Amazing team experience. Players talk to each other, advise and act. Use your mind, wit, creativity and sense of teamwork. Can you solve the puzzle in the limited time?
GoEscape.sk
The titles offered at GoEscape.sk are not games. It is a complex, team-based VR experience in which, thanks to VR technology, you will experience an adventure unavailable in real life.
How to try it?
You visit us, we will provide you with the necessary VR equipment, explain everything necessary, enter the virtual world and your amazing experience can begin.
Don't miss it!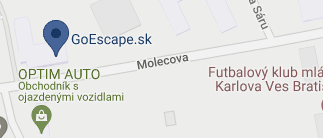 On February 1, 2023, we moved to new premises in Karlova Ves - Molecova 4/A. In the new location, you will have even more opportunities to enjoy the virtual reality experience.
Gift voucher
Give your loved ones a valuable and unusual gift!
Vouchers are for different numbers of people and you can also have it in printed form.
New - VR team games and VR parties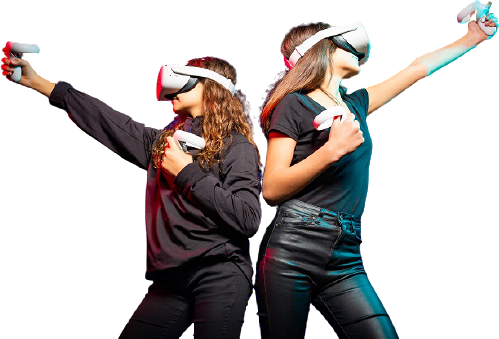 Your repeated topics have been listened to and we include in the offer:
Team VR games
Up to 1-4 players together, 4 action titles
Single player VR game
Simply book time and spend it in VR.
Celebrations/Parties with VR
Up to 12 participants, also a place to sit, the possibility of own refreshments.
What makes our escape room stand out?
Our virtual escape rooms are an experience you will remember and really enjoy. Cardboard is fine, but true virtual reality is something else. You will understand only if you try.
You will be in places that you will probably never get to in the real world.
You will solve tasks that are unattainable in the real world.
You will solve the tasks as a team, while you will all be in the same virtual and physical space.
No tripping over cables or teleporting, thanks to our VR backpacks you can move around the space completely freely and naturally. After a few minutes, the virtual space becomes real for you.
Price list
2 persons: 50 Eur
3 persons: 75 Eur
4 persons: 99 Eur
5 persons: 124 Eur

The price is for 1 entrance for the given number of people and completion of 1 degree in standard length.

The operator is not a VAT payer.
Payment is possible in advance by bank transfer or on the spot in cash (payment cards cannot be used yet).

Have a celebration, party, team building with us, or just go crazy in virtual reality.

There are 2 scenarios:

Games in VR for one player (multiple games of different genres, 2 game spaces are available, i.e. 2 players can play at the same time)
Team VR games (series of action, fun team VR games for 1 to 4 players (all together in one virtual and physical space), different genres, each game in several variants and up to 3 difficulties, length of one round approx. 10 minutes). In order to successfully complete the mission, the team must work together, but at the same time, an individual score is calculated for each player. Succeed as a team, shine as an individual, but above all have a great time :-)

1-hour VR action: 99 Eur
2-hour VR event: 189 Eur
3-hour VR event: 279 Eur
4-hour VR event: 369 Eur


Players/teams can alternate gradually.

The price is for 1 entry according to the chosen length. Standard capacity approx. up to 12 players (more by agreement). A separate "cake" / party room also available throughout the event.

The operator is not a VAT payer.
Payment is possible in advance by bank transfer or in advance on the spot in cash (payment cards cannot be used yet).

Are you holding an event/celebration/teambuilding/party/open day/promotional event/...? Include something in the program that the participants will really enjoy and remember. Call us.

You can choose from a wide range of attractions in virtual reality - from classic games and single-player experiences, to various team-based action fast-paced entertainment titles to complex team-based experiences and games of the highest quality.

Games can be independent of each other, but it is also possible to prepare individual or team tournaments.

All we need is free space, we'll take care of everything else. We will bring the equipment, prepare the playing area, the players will be accompanied by our game master during the entire event.

We will explain everything you need in detail and prepare a script tailored for your specific event.

Write to us at GoEscape.sk@gmail.com or call us at +421 915 307 307.
Escape room in virtual reality
Virtual Reality (VR) really makes it possible to experience anything, anywhere, anytime. It is a technology capable of maximally absorbing the participant into the virtual world and suggesting to the human brain that he is somewhere where he is not. It uses special VR glasses, headphones, a VR controller and a VR PC backpack, thanks to which the virtual experience becomes almost authentic.
Exceptional experience
In GoEscape.sk we will serve you the mixture of uncommon experience powered by TOP end technology, adrenalin, audio-visual sensation, accurate need of brain challenge, teamwork, fun and pleasure.
Teamwork
Experiences in our escape rooms are collective, not isolated or individual. All the puzzle you solve as a team, all the time in one virtual and as well physical place. Team spirit is even supported by the nature of some task.
Difficulty of your choice
All the experience is supervised by our game master. It is up to you if you solve the task alone or you use the hints. You can chose even the language of initial briefing. Beside of Slovak language you can chose English, German Spanish or French.
Visit an incredible places
Cosmic station board, open space, deep sea, submarine, alchemy lab, ancient castle, abandoned hospital, … . With virtual reality (VR) you will solve the puzzle on the places, which you never reach in reality. New rooms will be added systematically. Subscribe for the news not to miss any innovation.
TOP technology, VR backpacks
We are using top end technology in the industry. For your perfect experience there is professionally balanced and dimensioned gaming PC, that you wear as a backpack. We perform regular maintenance including cleaning and disinfection.
Great place, good accessibility
GoEscape.sk virtual reality escape room you can reach as by public traffic so as by car. Parking possibilities are nearby. Before and after your mission you can refresh yourself in near espresso.
Do you want to rent virtual reality?
We offer virtual reality rental for your event. Are you holding a company party, an event for clients, a party, a wedding, a celebration, a meeting, ..., ..., ... treat the participants to an experience that they will remember and really enjoy. Write to us or visit the page dedicated to the topic of renting virtual reality.
9
Escape games
We are systematically enriching the offer of escape games. Currently we are preparing and testing new title that comes soon.
5
Players max.
Teamwork and team experiences. In the missions can participate from 2 to 5 players. All are at the same virtual so as physical place.
6
Languages
The initial briefing can be held beside of Slovak language in English, German Spanish, French or Russian.
45
Minutes
Can you solve the puzzle in a limited time? Whole visit takes approx. 1 hour.
You just got a great gift idea!
Give your loved ones or colleagues a gift voucher.